ESS is a hostel bunk bed manufacturer which are renowned for strength the best camp bunk beds metal made is a sure fire good investment and ESS Universal has the answer in its Dallas and Missouri range.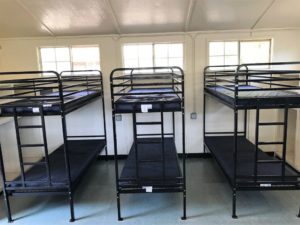 Superiority makes the Dallas the best camp bunk beds metal made
Its a matter of choice but making the right choice is crucial when choosing camp bunk beds, sometimes a massive investment will warrant the bunk bed structure to be superior in strength; this is where the Dallas camp bunk bed comes in! Weighing in at 74 kilos this tough bunk bed will far outlast its rivals, we guarantee it!
Fully seam welded frame from 1.2 wall thickness steel makes the Dallas and Missouri truly commercial
500 lbs rated mesh platform using no less than 6 cross members
A true metal camp bunk bed that is completely bed bug proof
Bolts to the floor for added stability
A safe US & UK designed structure that slopes on all edges avoiding clothing getting snagged
Full adult size as standard and bespoke [custom design] available with minimum quantity orders
Why camps are choosing metal bunk beds over wood
The days of using timber for camp bunk beds is mostly over,  the best camp bunk beds metal made are not prone to season distortion and using metal will give a longer life overall. The maintenance on a metal camp bunk bed compared to timber or wood is hugely reduced, usually only requiring bolts to be checked perhaps every 6 months on each metal camp bunk bed.
It is highly unlikely that safety rails, ladders and platform need repairing throughout the life of the Dallas and Missouri bunk bed range from ESS Universal; this is predominantly down to the superior design in each bunk bed design.
Why take a risk? There is an ESS distributor in your area of the globe and usually straight from ready made stock!