Pushing the boundaries with recyclable metal bunk beds with its range of 100% recyclable hostel bunk beds and many of the other products produced by ESS.
Most people are now aware of the damage we are doing to our beautiful marble planet, yet we are also aware that we are now fully dependent on such products as bunk beds, mattresses and such things we use daily. The recent social media outcry of orangutans losing their homes to loggers and deforestation, this sad but very real situation is happening to many jungles and forests on a daily basis around the globe. Our planet is resilient but under constant attack from humans ESS Universal is committed to reducing its carbon foot print.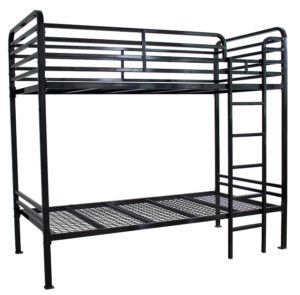 PROMOTING RECYCLABLE BUNK BEDS OVER WOOD
Let's face it, wooden bunk beds looks good in summer camp cabins but wood is not an environmentally friendly material, whereas metal is normally 100% recyclable. Metal bunk beds these days no longer have the 'Institutional' look rather they ergonomically shaped, presented in a variety of colours and when dressed with accessories can look great!
SAVING TREES WITH RECYCLABLE METAL BUNK BEDS
There are many reasons why we should be using recyclable metal bunk beds and not wood, for every metal bunk bed purchased is another part of a tree saved and another animal habitat secured. Please consider choosing ESS recyclable metal bunk beds and other amazing products that we strive to make friendly to our environment; it's the right thing to do!
Another huge universal problem is the use of packaging, especially plastic! Plastic is a global marine killer in the form of bottles and plastic carrier bags, ESS Universal are proud and boast no use of plastic packaging in its recyclable metal bunk beds. ESS Universal is constantly striving to eliminate this potentially hazardous material from all packaging.
Please consider ESS Universal, your earth friendly hostel bunk bed manufacturer