PAYING GUESTS IN ASIAN BACKPACKER HOSTELS – KEEP IT SAFE – DO IT RIGHT!
It is not the wish of the author to scare the living daylights out of anyone but as responsible business owners we all need to take seriously safety and security within the hostel industry that we all love.
ESS Universal has just completed a study of 'backpacker hostels' in Japan, South East Asia and China; would like to take this opportunity to thank the many CEO's of Hosteling International, independent hostel owners and managers for their contributions that made this study possible.
Before I begin, I would like to bring home some daunting facts and the reason we are all reading this today. An incident some years back in Australia is not a one off, around the globe there are incidents that happen in some capacity on a weekly basis and a stern reminder that as hostel owners we are responsible for doing the right thing.
TRAGEDY STRIKES IN THE HEART OF THE INDUSTRY
On June 23rd 2000 the Childers Palace Backpackers Hostel suffered a massive loss, a fire killed six men and 9 women backpackers; the former Palace Hotel in the town of Childers, Queensland Australia had been converted into a backpacker hostel.
10 of the 70 backpackers who did manage to escape, suffered minor injuries as they tried to escape from the upper level by jumping onto the roofs of neighboring buildings. A lot of the backpackers who were on the second floor tragically died. It was later found that one of the rooms where 10 of the deceased victims were found a bunk bed blocked an exit door and most of the windows had metal bars fitted making escape impossible.
ESS takes a moment to remember those who we lost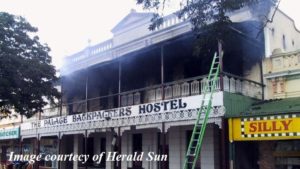 HOSTEL OWNERS IN S.E. ASIA & CHINA
What can we learn from this tragedy and many like it? Most westernized countries such as the UK, USA, Canada, Australia, Japan and Europe have very strict rules regarding guest safety; this safety legislation is enforced by local and national government. However there are a lot of hostels in developing countries such as on the African and Asian continents that have no such rules to follow neither is any rules enforced. As for personal safety at any hostel, only the hostels themselves can implement some sort of system for its guests such as night access to the hostel or anti-theft devices.
A study of backpacker hostels in South East Asia and China we found that they could be segregated into 2 basic types:
Serious hostel owners who are dedicated to the hostel industry usually by being former travelers themselves or have researched the industry thoroughly.
Business people that see the industry as a money spinner and know very little about the industry itself
SOME TOP TIPS TO ENSURE YOUR HOSTEL IS UP TO THE SAFETY TEST
Ensuring your hostel is up to standard where safety is concerned need not cost the earth, a few basic layout rules and common sense will go a long way to keeping your guests safe.
Listed below are a few points when your hostel is being planned or even in full swing:
Staff training is vital; these are potential leaders in an emergency situation!
After every day shift, ensure waste bins are emptied as these are potential night fire hazards!
Ensure every dorm/room and hallway has a fire escape plan placed at eye level firmly stuck to a wall.
Ceiling smoke detectors should be in every hallway and dorm, they are inexpensive these days and a regular scheduled check should be at least once per month and officially recorded.
Ensure your hostel has sufficient fire extinguishers placed in hallways and large dorms and checked regularly by a local qualified fire safety company, ensure a certificate is issued to the hostel management.
Stick to the 700mm rule! The law says there should be a minimum fire exit pathway of at least 700mm, this rule is essential when planning the layout of dorms with bunk beds, furniture and lockers
Fire kills! A metal bunk bed will not burn, a fire retardant mattress to CRIB5 [paying guest level] will not ignite for at least 20 minutes and this is valuable time to escape! Wooden beds and bunk beds are fuel for a fire; consider using metal over wood or any other combustible material.
If using privacy curtains, ensure the material is fire retardant to CRIB5.
Never fit intruder bars over a window that could be your guests only escape route, modern windows are designed to keep intruders out yet can fully open from the inside which could allow access by the fire service.
Bunk bed safety in backpacker hostels, your bunk bed is a climbing frame to a child; never allow a child under the age of 6 to occupy the top tier of a bunk bed.
Ensure your bunk beds meet safety entrapment standards issued by western countries and United Nations.
Understanding fire codes:
CRIB3: Domestic and home
CRIB5: Hotel and hostel paying guests
CRIB7: Marine and correctional institutions
There are many topics on safety written up on Hostel Management website, however please contact an ESS group in your country for detailed information or simply write to us on Hostel management, we like to think we can help!
http://heavydutybunkbeds.com.au