Metal bunk beds are a space saving idea in any hostel that have a high turnover of guests because floor space is a premium especially in built up popular cities such as Sydney Brisbane Melbourne and Perth
With property prices at an ever high, international backpacker hostels are making the most out of every square meter of floor space so the best option is to use metal bunk beds strategically positioned in dormitories. Most backpacker hotels use rooms as dormitories and allocate each as mixed female or just male and some hostels have mixed dorms where both sexes share the same dormitory.
 Metal bunk beds with privacy
Yes it sounds unusual that international travelers of opposite sex should be sharing the same dormitory, however such companies as ESS Australia have developed commercial metal bunk beds with privacy curtains as the image below shows.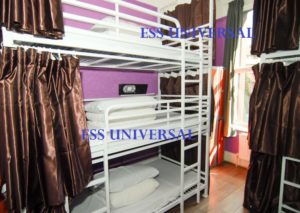 ESS Australia are a global company and uses its cleaver design team to bring innovative designs such as accessories to its Dallas and Missouri metal bunk beds; such accessories as:
Under bed storage lockers
Utility baskets that hang on the Dallas or Missouri metal bunk beds
Pillows that are water and bed bug resistant
Mattresses that are also water and bed bug resistant
Power consoles that give a locker, full USB charging outlet and reading light
All in all the ESS Australia Dallas and Missouri metal bunk bed system is the perfect setup for any backpacker hostel in a large city where space is a premium. ESS Australia like its global partners in USA, UK, Europe and Asia have perfected the perfect space saving system in its commercial adult metal bunk beds so check out the company website to see what ESS Australia can do for your hostel, camp, university or employee accommodation. ESS products because stronger lasts longer!