Hospital mattress types used around the globe vary, however getting the right type of mattress is extraordinarily difficult. ESS Universal has the best choice in waterproof mattresses, the benefits of choosing the famous M1 mattress range from ESS Universal make this hospital mattress the worlds best.
Whether a public or private hospital, care home or employee accommodation, choosing a mattress for patients and residents needs careful assessment. When choosing a waterproof hospital mattress, consider making the following benefits a basic requirement:
A list of requirements
A basic requirement of any hospital mattress is that it needs to be waterproof, or rather water resistant
The foundation is ideally a high density foam type that is resilient and has a good quality ILD (Indentation Load Deflection) see image below
Of course every mattress has to be fire retardant to your countries regulations
The mattress has to be user friendly, not just for the patient but also nurses
Looking at the above points, starting with the hospital mattress resistance to water; sometimes through illness, patients often have difficulty in control of there bladder, a good waterproof mattress is needed where incontinence is likely. However, a hospital or care home should avoid typical hard plastic covers and mattress covers, these are both noisy as well as hard on the sleeper. ESS Universal' M1 hospital mattress range has a PU coated waterproof cover that is soft to the touch, breathes and silent. The ESS Universal M1 mattress cover is the latest technology in water resistance where mattresses and pillows are concerned. The cover is fully removable and machine washable when heavy soiling occurs; otherwise simply wipe over with a damp cloth.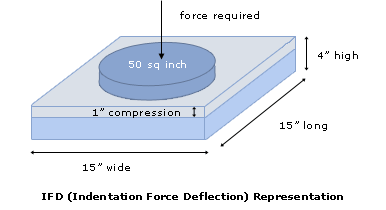 It is widely known in the nursing world that spending long periods in bed creates bed sores; to prevent this painful scenario, ESS Universal created the perfect solution in the M1 mattress. A high density, no nonsense high density foam block that gives wonderful contoured support to the heaviest of patients. It is a medical fact that when blood flow is allowed throughout bodily tissue, the skin can be nourished as well as muscles during sleep. The body contour given in ESS Universal hospital mattress foam avoids fesh being pressed against bones when the sleeper side sleeps or rests on their back.
When choosing a hospital mattress think of the ones who have to change bed sheets; it is not uncommon that hospital bed sheets are changed more than once a day, nurses work extremely hard to keep patients dry and comfortable. Having a bulky, heavy hospital mattress types is no joke when it comes to changing bedding, the ESS Universal M1 hospital mattress range is light, easy to move and incredibly easy to change bed sheets.
Consider inquiring to your ESS Universal group to see how inexpensive it is to have the very best in hospital mattresses