Dormitory metal bunk beds over wooden used worldwide
Dormitory metal bunk beds over wooden used worldwide for a few good reasons, many organizations are opting for metal bunk beds.
When the time comes to changing the sleeping systems, dormitory managers have a responsibility to provide the right equipment because like every refit, it is a high cost investment. Choosing right the first time round can save an organization many thousands of dollars.
Accommodation managers must look out for certain points when choosing to buy dormitory bunk beds:
First and foremost, do the bunk beds meet safety standards set out as government guidelines?
Strength, will the bunk bed structure take the stresses and strains of daily commercial life and give longevity?
Insects are becoming more of a problem when nesting inside wooden bunk bed frames, especially bed bugs, what attributes do the bunk bed frames offer to avoid this universal problem?
Adaptability, does the bunk beds offer any adaptable solution for example, can the bunk bed ladder fit on any corner?
WHY DORMITORY METAL BUNK BEDS ARE CHOSEN OVER WOOD
There are a few good reasons why accommodation managers are opting for dormitory metal bunk beds over their wooden counterparts, the biggest reason by far is strength and longevity. A very good example why strength is needed is at summer camps; kids of all ages and size climb the frame, every time this happens, pressure is put on most of the joints and over time causes severe erosion of the wood or metal joint if not kept tight.
Wood is a living breathing material that will shrink in summer and expand in a damp winter, the opening and closing albeit very slight will cause movement in joints and so cause wear resulting in squeaking and severe erosion of that joint.
Dormitory metal bunk beds are also susceptible to wear if the bunk bed is of a domestic design and bolts not being checked often. ESS Universal is a contact quality hostel bunk bed manufacturer that designed the Dallas bunk bed, Missouri bunk bed and superior Iowa camp bunk bed range to combat all the above issues. Dormitory metal bunk beds are a big investment for any organization, be sure to choose right the first time round, choose ESS Universal in your country and get the very best that your investment can buy.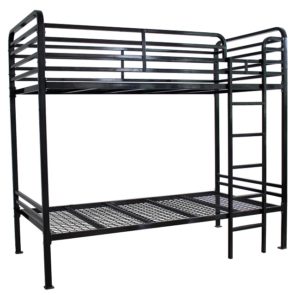 USA & CANADA: www.heavydutybunkbeds.com
AUSTRALIA & NZ: www.heavydutybunkbeds.com.au
UK & EUROPE: www.heavydutybunkbed.co.uk
CHINA & ASIA: www.heavydutybunkbeds.cn