Australia finally has a true commercial-bunk-bed supplier based in Perth on the west coast ESS Universal Australia brings a true commercial bunk bed to the Australian market place.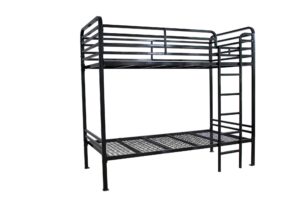 Commercial-bunk-bed type needed in Australia
There are many uses for a true commercial-bunk-bed in Australia, none more so than International back packer hostels, universities, military bunk beds placed in barracks and employee accommodation bunk beds used on farms, construction sites and mining operations.
Traditionally having to use domestic type bunk beds, hostel bunk beds would normally be imported from places like China, this is not usually a problem, the issue lies in the design and functionality of a domestic type bunk bed. A True commercial-bunk-bed made by a hostel bunk bed manufacturer such as ESS Universal are designed to withstand the constant turnover of guests and to take the brunt of daily commercial-bunk-bed use.
A good example of the current situation where commercial furniture is used for hostels is hostel bunk beds in Melbourne, many hostels in Melbourne are using either domestic wooden bunk beds or flimsy metal bunk beds, both these are designed for domestic use in the home rather than in a commercial-bunk-bed situation.
It is so difficult to identify what is a true commercial bunk bed and what is a typical metal domestic type bunk bed. Let us look at some important points in helping you identify the fundamental differences.
A dead giveaway is the assembled weight, a true commercial-bunk-bed will weigh in at 65 kilos plus
Most sleeping platforms on a commercial-bunk-bed will have a weight rating usually done by a laboratory test, the ESS Universal Dallas D2 for example is rated at 509 lbs whereas a domestic bunk bed will only be rated at around 200 lbs
Bed bugs in hostels is a huge problem, a true commercial bunk bed should be bed bug proof
A true commercial bunk bed will have strong safety rails that won't easily bend and a ladder that is equally as strong and durable
Basic engineering physics tells us that a square tube is always much stronger than round tube, this is why bridges and engineering structures use square box section rather round